3 Tier Acrylic Bakery Display Case With Tray
3 Tier Acrylic Bakery Display Case With Tray
EMOJI

CHINA

15-20 days

10000 sets/ week
These food display case, such as acrylic bins and pastry displays, have a rear spring-hinged door.
The positioning of the door gives the server the access to the contents of the display.
The design of the food bins makes filling them with food products faster and easier for the server.
Such a construction prevents the spread of germs. We sell food bins in many different sizes and designs to choose from as well.
Choose one that best fits the display area.
These food display cases are great for use in restaurants, bakeries, delis and hotels.
Description:
1. 3 Tier Acrylic Bakery Display Case With Tray.
2. These bakery bins, food bins are the perfect way to present freshly made pastries.
3. Each model is constructed from durable acrylic. These food bins are built to last a long time.
4. The construction of each unit is a blend of style and function.
5. These food bins have a simple and modernized design to easily match any environment.
6. Upscale and low budget eateries appreciate having this unit on their tables or counters.
7. Featuring 3 removable trays, these food bins provide you with flexibility in displaying a variety of different items.
8. Cakes, cookies, muffins, donuts and sandwiches are all possibilities.
9. These food bins, also known as acrylic bins, serve practical purposes as well. The acrylic exterior can help maintain the freshness of the contents.
Recommend Images: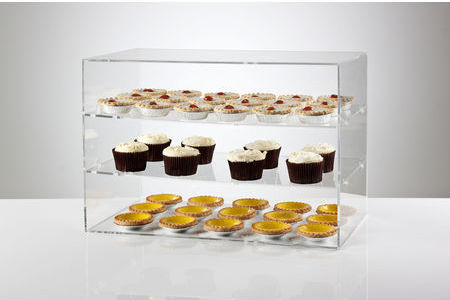 Specifications:
| | |
| --- | --- |
| Product Code | EMAC 106 |
| Material | Acrylic |
| Media Size | 32.0" x 15.0" x 16.6" |
| Color | Transparent |
| Placement Style | tabletop |
| Plastic or Acrylic Thickness | 5mm |
SERVICE PROMISE:
1. Product design: free professional product design.
2. quality assurance: the product uses green environmentally friendly materials, no bubbles, no burrs, no degumming, overflowing glue, impurities and other quality problems.
3. delivery time: can be delivered on time according to the contract time.
We a mainly provide custom service for the customers. We are responsible, professional and efficient. If you have any question or you want to know more information about this product, please contact us.